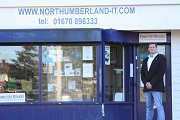 Northumberland IT Computer shop and repair centre
Northumberland IT – The real experts – Read our reviews and then decide.
Computers are an essential tool in today's modern world. Our experienced technicians are here to make sure your Internet, PC or Laptop works, and keeps working as designed. Find our why we should be your first choice for tech support and PC maintenance.
PC MOT, PC Healthcheck, Repairs, virus removal, upgrades, network installation, internet setup are just a few of our many IT services. 40 years of in the field computer experience.
Friendly and honest advice, whatever your issue, we'll put a smile on your face. Read what our customer have to say and decide for yourself!
Be sure to check us on yably.co.uk too.
[WPCR_INSERT]